About us
The Outpost company provides professionally trained security guards for personal security, security of objects, support of cargoes of the client across Ukraine, and also assumes responsibility for the material values ​​taken under protection. Today more than 2000 objects are under protection in Lviv and other settlements of Lviv region. These are businesses and offices, restaurants and clubs, shops, private houses and apartments.
The company "Outpost" provides its customers with the following security services:
Personal security in Lviv and Ukraine;
Protection of your guests and clients;
Protection of organized presentations and official events;
Security of the enterprise, and also your shops, offices and warehouses;
Protection of products and cargoes transported by you;
Protection and support of material values ​​and money;
Protection of construction and design objects.
Кількість об'єктів під охороною :
The security company "Outpost" has in stock:
Round-the-clock regular part in Lviv for management of mobile groups and transfer of information
Powerful radio network throughout the city
Rapid response teams equipped with modern means of communication, vehicles and weapons for firing rubber bullets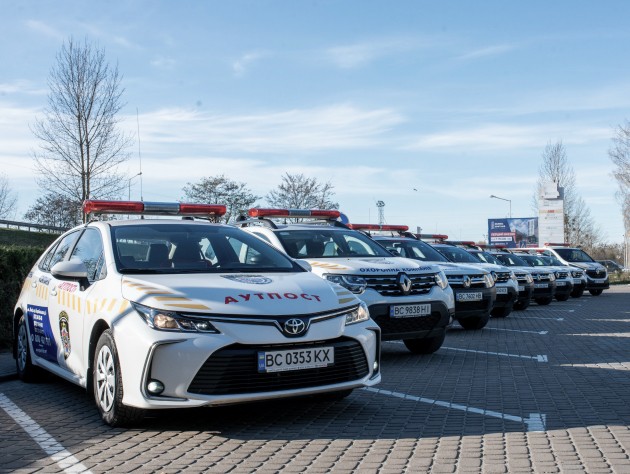 The fleet, which consists of 17 units, namely:
Toyota "Corolla" - 3 bus. (for cargo escort);
KIA "Sportage" - 1 bus. (for representative meetings);
Renault "Duster" - 4 bus. (for GSHR branches) Lviv;
Renault "Logan" -1 bus (for GRSh) Lviv;
Ravon R4 - 4 авто (для супроводу вантажів);
Ford Transit bus - 1 bus.
Renault Trafic - 1 автобус (для доставки особистого складу охорони на об'єкти);
Land Rover Sport - 1 авто (для представницьких цілей);
Toyota "Land Cruiser L 200" - 1 bus. (for representative meetings);
Our company has a flexible pricing policy, has a system of discounts for large and regular customers. We provide professionally trained security guards for your protection, protection of your objects, support of your cargoes across Ukraine and, at the same time, we assume responsibility for the material values ​​accepted under protection.
Trust security to professionals!