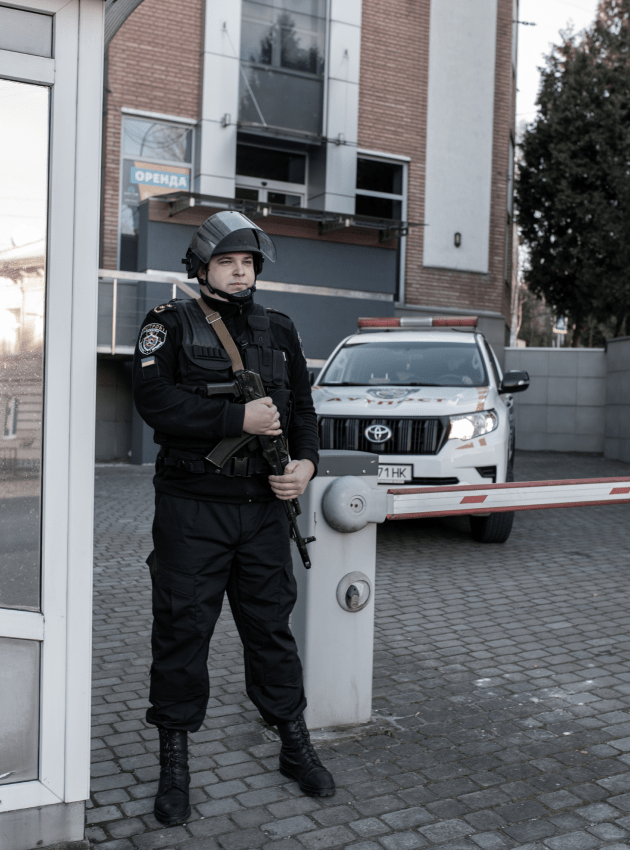 PHYSICAL PROTECTION INCLUDES:
Preliminary comprehensive examination of the object taken under protection;
Security system definition;
Working out the offers for alarm system, CCTV and communications systems;
Definition the possibility of connection to the centralized control protection.
PHYSICAL SECURITY:
Protection of objects of any complexity;
Office protection;
Residential and nonresidential apartment protection;
Bank protection;
Shopping Centre protection;
Cottage protection;
Building area protection;
Parking protection.
Physical security of objects in Lviv, Lviv region and other regions of Ukraine is carried out using weapon and specialized equipment.
Security with service dogs
At the request of the client, the object is guarded by service dogs.
PRICE LIST
1
Security service for banks, jewelry salons etc. (using guns)
During daylight hours
From 81.00 UAH\hour without VAT*
24\7
From 65.00 UAH\hour without VAT*
Security service for stationary and open-air objects
During daylight hours
From 63.00 UAH\hour without VAT*
24\7
From 62.00 UAH\hour without VAT*
2
Short-time security services for stationary objects, open-air objects, public events, valuables (at least 2 guards)
From 300.00 UAH\h (one security guard)*
3
Escort (protection) of material values ​​(not less than 2 security guards)
one-time support on the Contractor's vehicles
1500.00 UAH / hour
support on the Contractor's motor vehicle (on a permanent basis)
negotiable
4
Support service 24\7
From 800 UAH (monthly subscription fee)
*
The price of security services may vary depending on the complexity of the object, the number of posts, engineering and technical strengthening.
Trust security to professionals!